Olivier Niyungeko had tried his best for three years. He had walked around Gällivare, Lapland, in Sweden's bitterly cold far north, clutching a dictionary at first but after a while, he picked up plenty of the local language and had made friends, found work, played regular games of football. But time caught up with him: Niyungeko had declared himself a refugee upon arriving in Sweden, but the paperwork to rubber-stamp his stay had, for reasons unclear, never been approved and the authorities had decided to act.
Along with 16 other Burundians who had set down roots in the country, he was sent back to his troubled homeland. It was February 2010, and he clung to the idea that he could slot straight back in to life as a budding coach, eventually reaching the top and making a difference to the nation he had loved and left. He remembers the reassuring words of a friend in that strange, remote European town, offered shortly before that journey back into the unknown. "Olivier, you are not like the others," she told him. "I know you will be someone, because you love your job." Niyungeko replied: "OK, I love my job. OK, I'll go home. Do not be afraid; you'll see that I am someone."
Now it is June 2019 in Doha, Qatar, where the scorching temperature when training starts could not seem further from Sweden's extremities. "Fika! Fika!" ("Go on! Go on!") are the shouts in Swahili among 28 tired, aching Burundi national team players who have rarely worked harder than this. Niyungeko watches from the side, his towering frame occasionally straying onto the pitch to make a point or offer a correction. Some of the squad tell him that he has been tougher during this camp, more demanding, less tolerant of mistakes. But this is an opportunity everybody has to grasp.
Niyungeko has proved that he is someone but then so have the side he manages: they've achieved what once seemed impossible in taking Burundi to their first Africa Cup of Nations, successfully battling both precedent and the weight of a brutal history."Intamba Mu Rugamba" ("The Swallows in the War") are charged with finding a way past Nigeria, Guinea and Madagascar when the group stage begins in Egypt this month but there is something else, too. "We can be an instrument to bring our nation together, to make them proud," says midfielder Gael Bigirimana, one of the more vocal players in that exhausting workout under an early evening sun.
"We never had an inspiration; for so many kids in Burundi there has been no hope, and you have to have hope."
---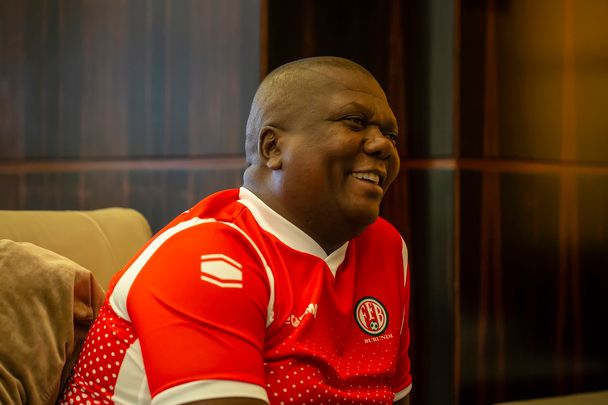 Olivier Niyungeko spent years in Sweden after escaping the conflict in Burundi before returning home in 2010. "Everybody underestimated me, but now we see with the work we've done what we can achieve something." APARNA JAYAKUMAR FOR ESPN
WHEN THE GUNSHOTS RANG OUT around Bujumbura, then Burundi's capital, in 1993, Selemani Ndikumana was 6 years old. He remembers seeing people flee from their houses, their belongings hurriedly piled high, in many cases never to return. Years of tension between the Tutsi and Hutu ethnic groups had surfaced just as they had during a series of bloody massacres in previous decades, and the situation was perilous. The country's first multiparty elections had been held that summer but the newly sworn-in Hutu president, Melchior Ndadaye, was assassinated by Tutsi soldiers in October. It precipitated a catastrophic dozen-years civil war that cost an estimated 300,000 lives and displaced huge swathes of the population, many of whom would seek sanctuary all over the world.
Ndikumana is the oldest member of Burundi's squad — he's their only player over 30, in fact — and has the clearest recollection of what happened back then. He describes those days as "really, really, really bad" and tells how his father, who was living in Tanzania at the time, sent somebody to urgently transport the family to the neighbouring Democratic Republic of Congo. They would return within weeks under one chilling condition.
"My grandfather told us: 'Hey, you can come back now, no gunshots, just some people stealing from the houses,'" he says. "We didn't want to go back, but at that time the people who were making problems were from the same group as my grandfather so they could not harm him. He was a Tutsi. They would look at the shape of your nose and say, 'You are Tutsi' or 'You are Hutu.' I was able to go back and start a new life, but I was really scared. By day it was OK, but then, after about 5 p.m., the gunshots started again. When I left, there had been gunshots all day, every day. The country became safer: not 100%, but people could work and go to the market. It was not easy." He pauses. "Not easy."
Eventually Ndikumana would leave Burundi again but on his own terms, as a professional footballer. He has played in 11 different countries; it has been a decent career but there is still the tinge of regret that, just when bigger clubs had been attracted by his form as a striker with the Belgian side Lierse, he injured his knee and was sidelined for a year. He has toured plenty of teams in places like Angola, Albania, Sudan and Qatar since then but the national team he has served for 13 years makes up for some of the disappointment.
"It was one of my biggest dreams," he says. "In the past we didn't have a real group. Everybody was minding his own business; it was like we had a good team of names but on the field it was like individuals. That's why we never made it this far before. This team listens to each other, fights for each other. Finally we are here. I never gave up and knew that one day, we would qualify."
Burundi's football scene suffered collateral damage as war took hold. When it began in 1993, the senior national team was ranked 93rd in the world, its highest position ever, and had recently defeated Ghana. Hours before the war broke out, it lost agonisingly on penalties to Guinea in a playoff, held in neutral Gabon, to reach the 1994 Cup of Nations. Peace could have given that generation another chance to flourish, but they did not play at all between October 1993 and June 1996, and endured another two-year hiatus after that.
In 22 matches from November 2000 to December 2004, mainly against regional rivals, the team would win only once. Any level of organisation at the top had been lost and, in 2003, FIFA suspended financial assistance to the country's federation after $114,000 granted by the global governing body was found to be unaccounted for. Ndikumana and his squad of talented soloists managed to steady the ship after that, albeit with few notable successes. It took some unexpected happy consequences of that gut-wrenching diaspora to propel Burundi toward heights nobody had dared contemplate.
---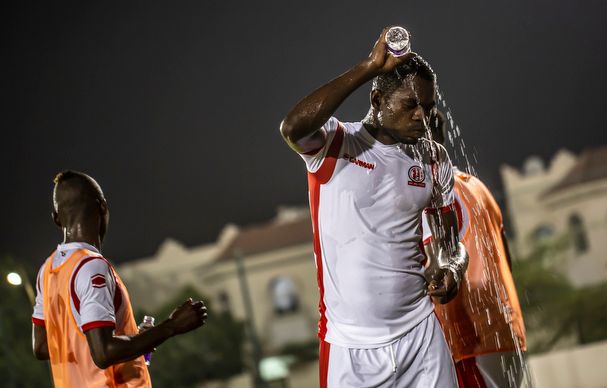 With sky-high temperatures in Qatar, the site of Burundi's final pre-tournament prep, hydration is essential. The players don't mind. "Our job as a team is to concentrate on representing our country," said midfielder Gael Bigirimana. APARNA JAYAKUMAR FOR ESPN
IF YOU WATCH PREMIER LEAGUE or Championship football, you know Saido Berahino. He could be, and should be, brilliant, something Mauricio Pochettino clearly believed when he tried four times to sign him for Tottenham in 2015. It was some saga, but eventually Berahino ended up at Stoke, not Spurs, and now he finds himself without a club. He was sacked in May after being convicted of an alcohol-involved violation: not his first controversy. In 2015, he was found guilty of the same offence, and the following year he served an eight-week ban after testing positive for the recreational drug MDMA, which he said came from a spiked drink.
That rap sheet might exhaust one's patience, or one might (as some fans did) see him as a brattish young footballer who has wasted his privilege. But maybe that view would be missing most of the picture.
"A lot of people don't really know who I am in England and it'll probably put me in a different light," Berahino reflects on his status, conferred a week previously by Niyungeko, as Burundi captain.
Seeing Berahino around Burundi's team hotel in Doha invariably brings a smile. He's full of cheerful conversation and offers of help: "Do you want me to get any more of the lads here to speak to you? Is there anything you'd like from me today?" He is his country's biggest sporting star now, but nobody would envy his path here.
In 1997, his father was killed during the turmoil in Bujumbura; in 2003 he moved to England, arriving shortly after his mother and leaving his 10-year-old life behind. He experienced things no child should, and it's striking to think that, at just 25 years old, those memories are still fresh. His football talent gave him a clean start, and until last year, he'd been reluctant to commit his international future to Burundi, particularly as he had featured heavily in England's youth teams from Under-16 to Under-21 levels.
"Football-wise I had a lot of maturing to do and work to be done before coming to play for Burundi," he says. "I needed to grow as a player first before actually making the decision. I felt, at this stage of the career, that I could take on the challenge. I've been in the game a few years now so I know how to handle myself and handle expectations."
There was still little that Berahino could do to prepare for the excited crowds that greeted him on his return last summer. It was his first visit since leaving for England 15 years earlier and he wanted to reacquaint himself properly before those whistle-stop footballing trips that barely extend beyond the hotel and stadium. He felt like "a bit of a stranger" upon visiting his old neighbourhood at first but soon found the memories pouring back, his mother's friends sitting him down and regaling him with tales from his childhood. He knew he had made the right choice and felt ready to take the job of footballer-ambassador for a country whose troubles are far from over.
---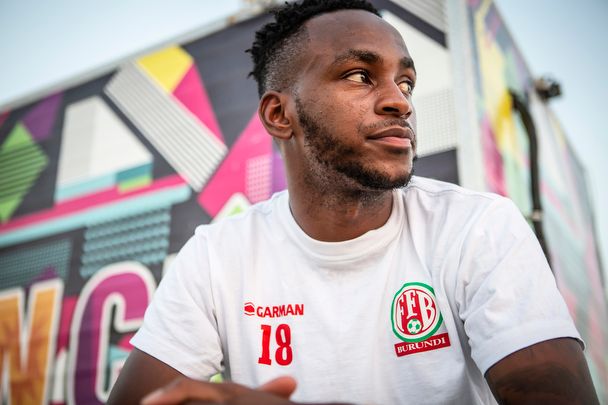 Saido Berahino is the most recognizable member of Burundi's squad given his Premier League spell. He has a new sense of maturity as their captain. "Every second, whatever I do, there are eyes on me and it matters. So I've got to stay on top of my game." APARNA JAYAKUMAR FOR ESPN
BERAHINO MADE HIS NATIONAL TEAM DEBUT in Gabon, where Burundi played the second of their six Cup of Nations qualifiers. He was apprehensive about how he'd be welcomed into an established squad that was shy of big names, making a "thank you" speech for the warm reception he was given before the game. "I want to let you guys carry on doing your thing," he stressed to his new teammates. "Show me the way because I'm new here, I don't yet know the philosophy of this team, I want to learn." He scored in a surprise 1-1 draw and, from that moment, Burundi's players sensed they had the chance to make history.
Mali, another side full of experience in Europe's toughest leagues, were up next and The Swallows held them to draws both home and away. South Sudan were beaten 5-2, Berahino among the scorers, and it meant a point at home to Gabon, led by Arsenal's all-action Pierre-Emerick Aubameyang, in March would be enough to qualify. They did it, despite a Gabon equaliser cancelling out Cedric Amissi's volley and making for an agonising final 10 minutes.
"Those last few minutes felt so crazy," Berahino says. "But as soon as that whistle blew, you could see the joy everyone had. The whole country was just going crazy and I don't think anybody went to work for the next two days."
It is Burundi's time and Berahino hopes that, after all the mistakes and the bad press, it can still be his too. "If this role does not give me more discipline, then I don't know what ever will," he says. "I believe this will keep me humble and disciplined. I'm leading by example now; everything matters now. Every second, whatever I do, there are eyes on me and it matters. So I've got to stay on top of my game."
He makes his way back through the hotel lobby, departing with another promise of assistance. "We just want every other person to experience what Burundi's about. We have no barriers. There's nothing we are hiding here, nothing we are ashamed of.
"We're a welcoming culture, but unfortunately we're sometimes painted in a different light."