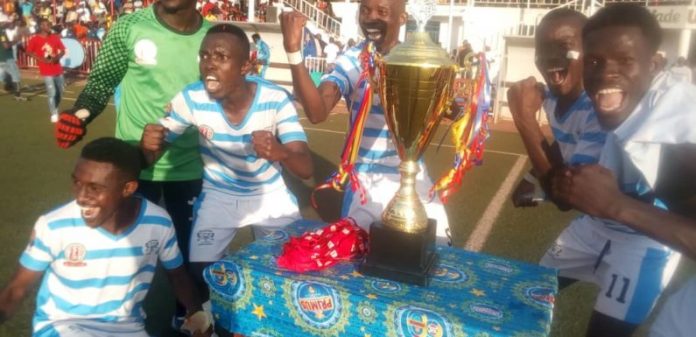 The Primus league season came down to the wire last Saturday to decide this year's champions as Flambeau du Centre which was on third position locked horns with Atletico New Oil in Muyinga province to pull out a surprise win to be crowned the champions at Umuco Stadium in Muyinga.
Prior to the 30th and last match of the league, Flambeu du Centre were adrift the top of the table by two points sitting in the third position after Atletico New Oil and Bumamuru respectively.
The Gitega football academy Flambeau du Centre won their first ever primus league title defeating their rivals Atletico New Oil by 2-1.
38 minutes into the game, Atletico New Oil conceded a goal scored by Abdoul Karim Barandondera of Flambeau du Centre after a spectacular teamwork with combination of Leonard Gakwaya and Asman Hamis that led to breaking the deadlock.
Atletico New Oil's Landry Selemani Ndikumana was given his matching orders by referee George Gatogato just before the halftime after he received his second yellow card for elbowing Flambeau du Centre's Issa Hakizima.
But Atletico New Oil equalized few minutes after the second half kicked off in the 59th minute a goal scored by Yasser Araf Tuyisenge which gave Atletico some lifeline and a glimmer of hope to be the champions after a quick throw in found defenders Theodore Ngabirano and Issah Modela napping leaving Araf Tuyisenge to take a volley just outside the eighteen yard box.
The game seemed to be ending with both teams sharing the spoils not until deep in the stoppage time when Flambeu du Centre were earned a penalty after Athletico's player handled the ball in the box.
Issa Hakizima jersey number 4 of Flambeau du Centre converted the penalty deep into the stoppage time to give the visitors a win and their first ever title of the Primus League.
The Champion of this year's Primus League was crowned after the 30th match day and on the last day as Bumamuru who sat second on the table lost their final game against Le Messager Ngozi by 2-1.
The final group standing Flambeau du Centre finished with 53 points in the top position, Atletico New Oil on the Second place with 52 point and third place was Bumamuru with 51 points.
Three teams were relegated to the second division included Les Crocos FC with 24 points, Flambeau de l'est 23points and Royal FC rocking the bottom of the table with 22 points.
Flambeau du Centre as the Primus League winners were awarded 50 million Burundians francs.