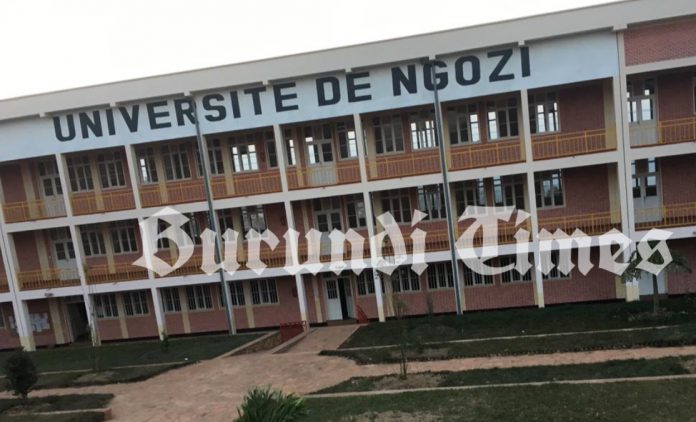 A student in Ngozi university located in the northern part of the country tested positive for Coronavirus according to the school administration, the university has since last Monday August 3rd taken the precautionary and preventive measures against the spread of the disease in the campus.
"When one case is discovered this means that there are probably other cases not yet found so we have to protect ourselves as well as others and the university is determined to battle the pandemic," said Apollinaire Bangayimbaga the rector of the university.
According to the varsity administration every student's body temperature is taken at the entrance of the premises, and a water point has been installed for students to wash their hands before accessing the facility.
Wearing masks and social distancing have been encouraged by the school administration in efforts to contain the spread of COVID-19 since one of the students tested positive for the virus, "even in the classrooms we make sure that social distancing is respected," said Mr. Bangayimbaga.
"The students in general are happy with the preventive measures taken by the university of course there are still challenges as students are not well sensitized but strict measures were taken to curb the spread," said Norbert Ngabo the students' representative.
The varsity administration expressed the intention of taking all the students for the mass testing that kicked off last month in Bujumbura, the mass testing of Burundians is conducted for free of charge under the supervision of the ministry of health and the World Health Organization.
Since the first case of COVID-19 was reported in Burundi in March this year, more than 350 people tested positive for the virus according to the country's health ministry.
While 304 patients are said to have recovered and discharged from the hospital, the government said that one person succumbed to the virus.
Burundi government said that the mass testing will be conducted for a period of three months and the results of tested people can be available in less than 48 hours.
Burundi is among the few countries in Africa that never took drastic measures to curb the spread of Coronavirus, other East African Community member states had imposed countrywide lock down and suspension of schools until next year.
Currently member states are now easing the preventive measures by lifting the lock down gradually with borders yet to be open for citizens to cross and do business.