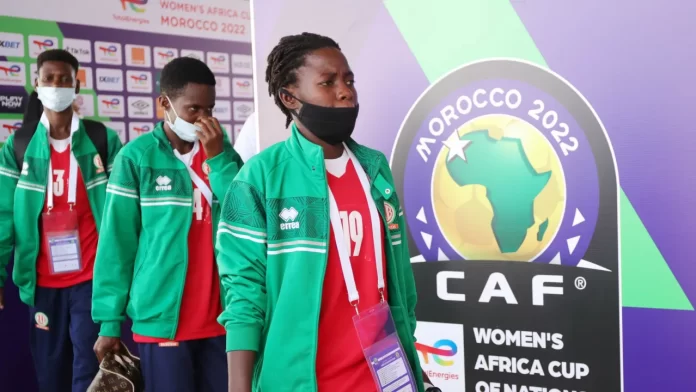 As far as fate is concerned, what are the odds that a team finds itself in a David and Goliath affair having to prove that they have what it takes to conquer?
Well, ahead of the last Group C ties set for Sunday at the ongoing TotalEnergies Women's Africa Cup of Nations, the debuting Burundi find themselves between a rock and a hard place as they prepare to face the most successful team in women's football on the African continent – Nigeria who have won nine titles.
On paper, many would like to think that they can predict the outcome except that the beautiful game has provided us with upsets over the years to learn from.
"We are going to play against a very experienced team at the WAFCON. We want to go into this game to correct our past mistakes in the two games that we have played so far and we hope to do well," explained Falonne Nahimana, who turns out for Huddersfield TAFC in the UK.
About featuring at the biggest tournament for women's football on the continent, Nahimana added that, "I am very grateful to the federation for giving me the opportunity to play for the Burundian team and tomorrow's match is a match of my dreams to play against a great team like Nigeria is a great opportunity. For us as players, we need to go and fight as a team and do it with respect for our country."
For Gustave Niyonkuru's side, this is a lifetime chance to announce their arrival at the big stage. The Swallows have played two games and lost both 4-2 to Botswana and 3-1 to South Africa but Nahimana believes that they have what it takes to make amends.
Meanwhile, Nigeria head coach Randy Waldrum said that, "We want to build on the confidence that we got from winning our second game. When you go into the third group game, as the coaching staff, we start looking at who we want to play, who should rest."
"Some of our players have played 90 minutes twice already and it is a long tournament. If you are fortunate enough to make it through six games, we have to be mindful so these are some of the challenges that we have. So we have to try and find that balance."
This fixture will be played at the same time 2100hrs as South Africa vs Botswana with two places in the quarterfinals up for grabs for Nigeria, Botswana and Burundi. The two games will be live on SuperSport.