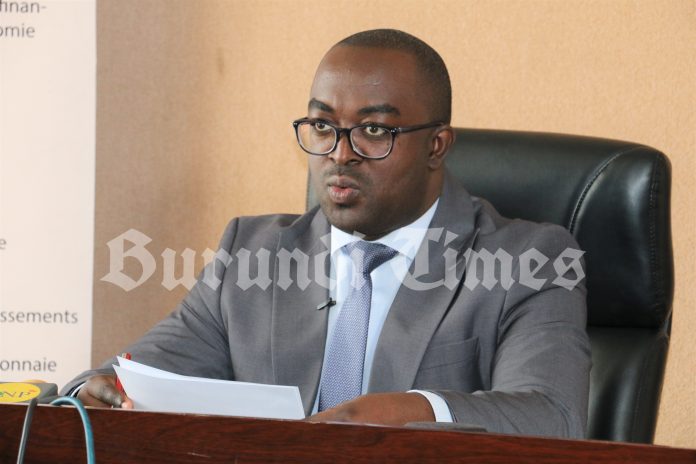 The governor of Burundi's Central Bank (BRB) Dieudonne Murengerantwari has this Friday announced the suspension of the special refinancing framework for growth sectors, days after Burundi president Evaritse Ndayishimiye criticized the policy.
During a press conference in Bujumbura, the Central Bank governor announced that the measure was suspended until further notice, "except for the agro-pastoral sector, the special refinancing of growth sectors as indicated in correspondences is suspended until further notice."
The regulation was enacted in 2017 and 2019 on the constitution and management of guarantees to cover loans to banks and financial institutions, according to the government it was part of the objective of the BRB to contribute to the promotion of economic growth through the establishment of a special refinancing framework for growth sectors.
The sectors that were eligible for the refinancing included the agro-pastoral and industrial sectors, with the exception of the coffee campaign, the refinancing terms of which are determined in another circular. Particular emphasis was placed on the development of value chains, as well as the promotion of exports and import substitution.
While announcing the monetary policy measures, Dieudonne Murengerantwari said that the international and regional economic environment is currently evolving in a context marked by multiple shocks that have disrupted the macroeconomics of the country.
According to the BRB, there is a general increase in prices, mainly due to the increase in the prices of food products and energy, the country's Central Bank indicated that the inflation rate in the country stands at 22%.
"At the end of September 2022, the inflation rate in advanced countries was 10.5% compared to 4.6% recorded in the same period of the previous year. At the level of the East African Community, the inflation rate in most countries exceeded the macroeconomic convergence criterion set at 8.0%. On average, at the end of October 2022, it was 13.5%," said the BRB Governor.
The International Monetary Fund (IMF) concluded the 2022 report with Burundi on July 20, 2022 indicating that Burundi's economy continues to navigate the challenging headwinds presented by the COVID-19 pandemic and the impact of the war in Ukraine.
The IMF report indicated that the country is benefiting from the positive effects of the recent reengagement with the international community, the lifting of E.U. and U.S. sanctions at end 2021/early 2022, and ending of mandatory reporting by the U.N. Security Council.
Growth is expected to pick up to 3.3 percent in 2022, slightly strengthening from 3.1 percent in 2021, and average about 4.7 percent over 2023-27 benefitting from ongoing investment plans to further scale up public investment, and ongoing reforms under the Plan National de Development (PND).