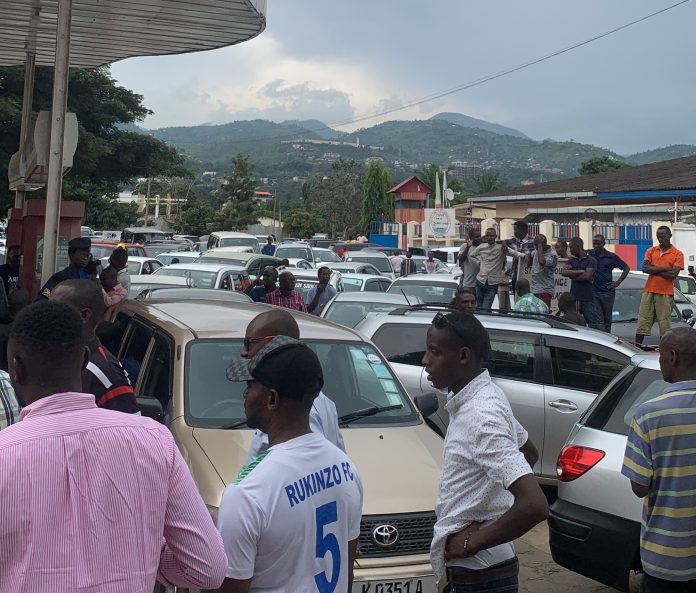 After almost a month of fuel crisis in Burundi, the government announced on Thursday the new fuel tariff in the country making it the second time in less than a year for fuel price to increase.
Gitega said that there was disruption in the importation and distribution of fuel in the country due to the Covid-19 pandemic that affected the international markets and the current war in Ukraine disrupted the supply of fuel.
"Prices of several products including have increased significantly and the price per barrel of crude oil on the international market rose from $70.8 US last year to $103.67 as of this month an increase of almost 47 percent," said the Burundi minister for energy and mines Ibrahim Uwizeye.
The Burundi government said that it has taken incentives to waive some taxes on fuel in efforts to control the inflation rate in the country albeit the increase of fuel prices at the international market.
Many Burundians had witnessed one of the worst transport disruptions in the country this week with many queuing at bus stations spending hours waiting for the few buses to take them to their destinations.
"It is not easy these days to live in Bujumbura because I wake up at 6 am but still I have to wait for more than two hours to get a bus to town I arrive late at work and the same applies when am returning home," Karim Ndagijimana told Burundi Times.
Sources say that the leading cause of the worst fuel crisis in Burundi was due to the fuel importers who demanded for the increase of the product price since the prices inflated at the international market, with hope that after the increase of fuel prices the fuel distribution will be normalized countrywide.
Product inflations have continued to hit the country for years, with currently the population still facing sugar and cement shortage.
The government says that the country is now trying to recover economically after sanctions were lifted against Gitega that were imposed 7 years ago, that led to the shortage or lack of foreign reserves at the Central Bank which is key for the importation of the country's essential products.