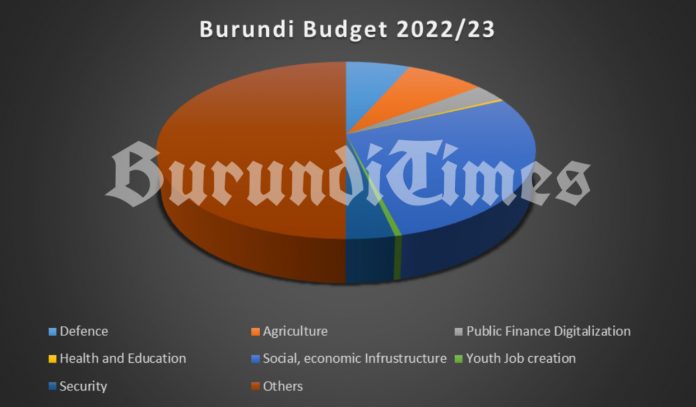 Burundi's 2022-2023 annual budget increased by a whopping 40% according to the country's finance minister Domitien Ndihokubwayo while he introduced the budget to the parliament in Bujumbura earlier this week.
"Citizens also should help contribute for the annual projects as the budget records a shortage of almost 200 Billion BIF during the 2022-2023 annual budget which will kick off on 1st July," said the Burundi finance minister.
The 2022/23 fiscal year recorded a budget deficit of 100 billion Burundian francs, the Burundi finance minister said that measures will be taken in order to close the deficit gap of the next fiscal year that is expected to start on July 1st.
In 2021/22 fiscal year Burundi passed a budget of 1.55 trillion Burundian francs compared to the next fiscal year set to start next month of 2.39 trillion Burundi francs an increase of more than 40 percent.
The finance minister tabled a budget of 2.19 trillion francs despite the budget expenditure expected to stand at 2.39 trillion creating a deficit of almost 200 billion.
"New measures are provided for this bill, these measures will help us to close the deficit. We also invite any Burundian citizen who would like to contribute to the outcome of this bill to allow us to invest in this development project," said the finance minister.

On June 14th 2022, the observatory for the Fight against corruption and Economic Malpractice (OLUCOME) raised concerns on the increase of more than 40% of the annual budget within a space of one year.
"Unfortunately this money will come from vulnerable pocket which is also a heavy burden to bare," bemoaned Gabriel Rufyiri, OLUCOME leader.
The 2022/23 fiscal budget will finance six priority sectors including 80 billion francs in the Agro-pastoral sector, 280 billion in the social and economic infrastructure, 5 billion francs in Youth employment, 65 billion to reinforce the defense system, 35 billion to strengthen the public security system.
3.5 billion in health and education, 20 billion to purchase the Telecommunications Regulation and Control Agency (ARCT) equipment and 32 billion to the digitalization of public finance.