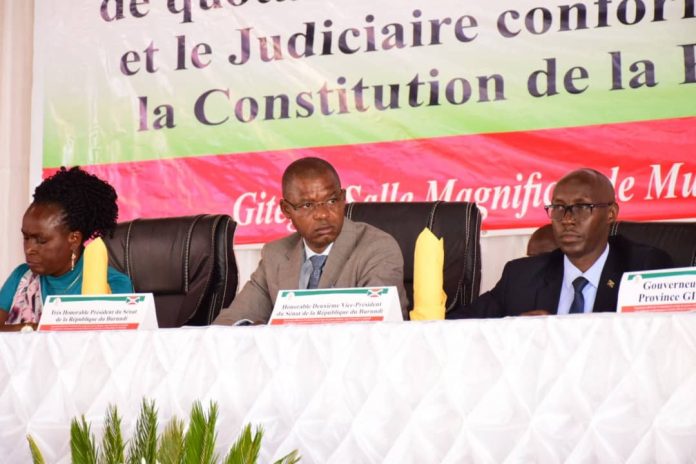 The Burundi senate in Gitega on Monday officially flagged off the ethnic quota evaluation exercise on whether to abolish or maintain the quota system as scripted in the Burundi constitution.
The evaluation meeting that was launched on 31st July brought together government officials, Members of Parliament and the senate.
During the official opening of the activities Burundi's former president Domitien Ndayizeye in his presentation said that the reason as to why the ethnic issue cannot be abolished is when poverty is not completely eliminated.
"You cannot go out to fight in the name of an ethnic group if everyone has money and has food to eat," he said.
Mr. Ndayizeye called on the participants to support the vision of president Ndayishimiye which suggests a Burundi where every mouth gets food, and every pocket has money.
The participants during the official opening differed views as for Honorable olivier SUGURU from the Uprona party, "the origin of ethnic issues is fear, accompanied by inferiority complex."
The Batwa ethnic group claim for the reinforcement of the policy arguing that they are still marginalized.
"The necessary thing today is to review the constitution so as to include more Batwa in the affairs in the administration," said Imelde Sabushimike Burundi's minister in charge of national solidarity.
Ms. Sabushimike said that countrywide the Batwa ethnic minority have only one director in the education sector.
The ethnic quota system was initiated to bring peace and stability in Burundi after decades of ethnic bloodshed in the country.
The Arusha agreement that came in 2000 was meant to unite Burundians and enforce inclusivity in the government positions.
The quota system suggests that 60% of the government, parliamentary seats and the judiciary is for the Hutus while Tutsis occupy the remaining 40%.
It is only in the army where the two main ethnic groups in the country share a 50-50.