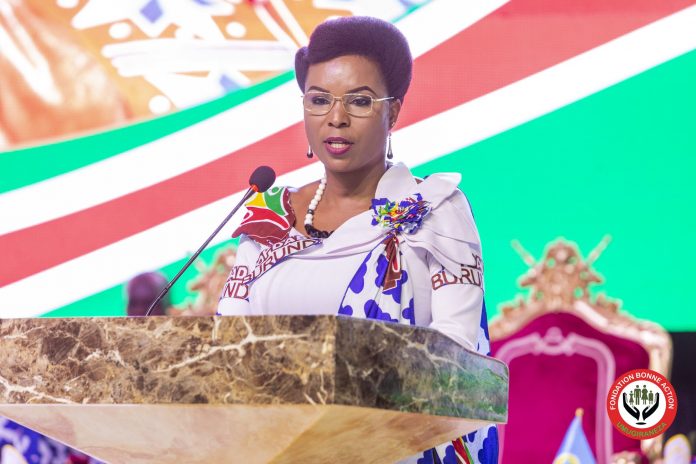 Farming, nutrition and environment conservation was one of the main key issues discussed during this year's Women Leadership Forum that took place in Bujumbura under the auspices of the Burundi First Lady Angeline Ndayishimiye.
The three day meeting brought together female leaders in Burundi and around Africa under the theme "Health nutrition of women, newborns, children and adolescents."
"First of all food comes from the environment. God gave us this planet so that we could take good care of it and provided us with life. Whenever we are not practicing the protection of our environment we are inviting hunger. In other words we will no longer have a place to cultivate, not even what to harvest," said Burundi president Evariste Ndayishimiye during his closing remarks.

Aisha Halilu Buhari Nigeria First lady who was among the high level dignitaries expressed her gratitude and hailed Angeline Ndayishimiye's hard work.
"I am here in person to support and encourage my sister and share ideas on how we can continue to impact the lives of our people. Through meaningful collaborations and networking, we can achieve the goals of eradicating malnutrition in our societies."
Irene Isaka, representative of the Secretary General of the East African Community saluted the theme which emphasizes the fight against malnutrition and considered this theme pertinent as it plays a major role in the wellbeing of the entire life cycle of human beings.
"This forum will discuss and come up with a permanent and sustainable solutions to assist different regional economic communities to tackle issues related to the health nutrition," said Ms. Isaka.

Ms. Isaka stressed that Burundi is one of the partner states to have complied with article 118 of the EAC Treaty under the section A,B and E which calls for joint action towards the prevention and control of communicable and non-communicable diseases and to control pandemics and epidemics of communicable and vector-borne diseases such as HIV-AIDS, cholera, malaria, hepatitis and yellow fever that might endanger the health and welfare of the residents of the Partner States.
"Burundi, Democratic Republic of Congo and Uganda are among the world's fastest growing populations. Majority of the population is classified as young with 77% or 221 million aged below 35 and 115 million that are aged between 10 to 29 years. These adolescents and young people need to be in good health and good nutrition in order to increase productivity and build a strong future," she added.

Angeline Ndayishimiye, Burundi's First Lady thanked the support provided by all delegations indicating that is a battlefield that aims to overcome the challenges that haunt societies and their people.

"This forum aims to provide an opportunity for Burundian women leaders and those from 4 corners of the world to discuss and reflect on resilient and sustainable means and actions that can contribute to the improvement of health, nutrition, women, newborn, child and adolescent."
Since 2021's edition, Burundi has come up with a commitment to fight against malnutrition and a 2022-2025 roadmap whose main objective is to contribute to the reduction of growth and the rate of acute malnutrition until 2025 was adopted.
The first edition of the forum of the high level of women leaders was first launched on October 20th, 20202 via the Zero malnutrition campaign.