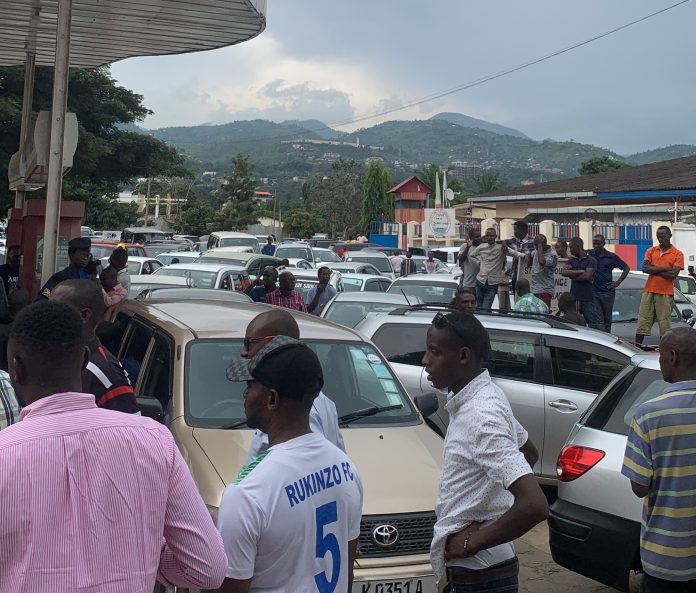 Burundi has been hit by one of the longest fuel shortage period as citizens in Bujumbura find it more difficult to move from one place to another due to the lack of public transport with long queues being witnessed at fuel stations.
Bujumbura as the economic capital daily activities kicks off in the early morning hours, the morning rush hour starts as early as 6am local time, however the usual traffic flow is barely seen now on the Bujumbura roads due to the fuel shortage.
"I was at stage by 7:00 am there were no buses. It was only until 9:00am that I was given a ride. That ride did not take me to my destination place. It dropped somewhere, where I had to wait for public transport, the one which came and took all passengers at the bus station was at around 10:40am. I had to wait for another public transport. I arrived at work by 11: 40am this means I am working a half day," said Nzigamasabo Ladislas one of the citizens in Bujumbura.
Besides passengers, drivers lamented on the lack of fuel as long queues are seen at almost every petrol station in the city even when the petrol station is not distributing fuel.
Public transport drivers say that they spend a whole day queuing for fuel at the stations and yet being given limited quantity of fuel.
"I arrived at this petrol station around 6:00am and I was served at around 14:30 local time…I was only given 5 liters. I can't make it and work with only 5 liters of fuel. I am going to queue again at another fuel station to see if I can work tomorrow," Bertrand Ndinzemenshi a taxi driver told Burundi Times at one of the petrol stations in the city center.
Public transport drivers have raised concerns over being called into bribe by fuel station attendants in order for their cars to be refueled.
With the persisting fuel shortage that has gone on for weeks in Burundi, the government is yet to make a statement or give an update on the crisis.
This comes few months after the Burundian government increased the fuel price from 2400bif to 2700bif, despite the increase of the price of fuel the scarcity of fuel in the country seems to have persisted which analysts say will rise the cost of living in the country.