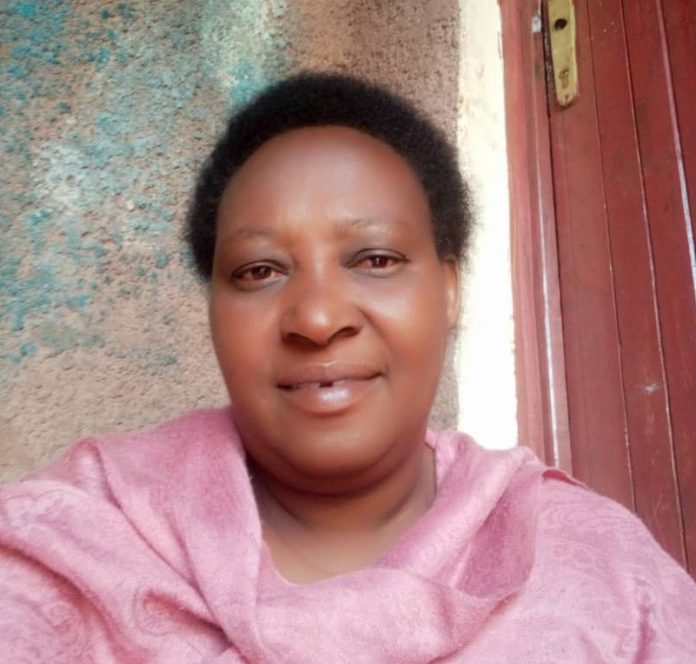 Ranked second killing cancer in Burundi, October is a breast cancer awareness dedicated month, Gerarde Minani, a 48 years old mother of 5 children and a nurse at Muyinga Hospital spoke to Burundi Times' Joella Nticiteretse of her battle with breast cancer. She is still under treatment, according to her the doctors recommended to stay under treatment for the next 8 years.

How did you know that you needed to test for breast cancer?
Signs vary from person to person, in my case I started feeling weary, feeling the pain in my left hand, having some pain on my shoulders. There were no obvious symptoms at all. As time went by my breast started irritating me. I could scratch it and then the irritation could finish at that time. It started to be painful on my underarm area. Besides that pain, I had a headache, pain in my eyes. I could take painkillers every time.
And how was your journey to get tested looked like?
Before being diagnosed with breast cancer, I had a lump in my left breast on October 15 2019. It got complicated as my breast started to swell. A year later, in 2020 I went back for examination, that's when I was diagnosed with breast cancer. It took me months to accept and wait before starting the treatment. I had no choice except to stay there at the mercy of tomorrow, because cancer patients had to go to Kigali, Rwanda for treatment, which was not possible because of the COVID-19 pandemic by then. During that awkward time I developed diabetes.
After being diagnosed, how did this change your way of living?
At that time, it affected my life of course because it brought me back in time. I happen to recall that I grew up as an orphan. I started to think that my children would suffer the same fate as my first born was yet to be 18yrs. I panicked and started to complain and question the reason for my being.
But on the other side, I knew what it was all about because I am a nurse and started to strengthen my faith and leave it to God. However, it was very difficult for my family to understand and internalize this news, especially my husband. He even nearly went mad. We did not hide from our children that I have cancer, it was also hard for them to accept.
How was the treatment like?
After that pretreatment checkup, I started chemotherapy sessions at Kinindo Surgical Medical Center (CMCK). I used to be hospitalized for 2 days and paid 1.9 million BIF per session yet I was supposed to do 8 sessions. I was dumbfounded at that colossal amount of money and was like if I am to pay such amount of money per session where am I going to get the money? From there I started to do calculations and wander about who is going to take good care of me while hospitalized. It is way stressful to know that you are going through chemos besides that you added the stress of not knowing where to get money for the following sessions as if it is not enough I had to wonder where I should get proper food (special diet) and who will be there for me.
The accumulation of that causes the loss of appetite, the antibodies pay the price and that it is the beginning of losing bodily immunity. Then comes the turn to fight invaders and that requires a new diet. Thanks to God my husband has been there for me as well as friends, because I had to go under chemo every 3 weeks. I did 8 chemotherapy sessions. After all the 8 sessions, the Doctor estimated fit for me to go for a surgery and asked me to do other physical examination.

How did you cope up with the operation?
During the operations, it was not easy at all, I had to prepare myself for that either psychologically and financially even to look for a guard. Being a cancer patient requires patience and faith, if you are not very well prepared you easily die of fear. Beside the faith and whatever has to be observant to the treatment.
After the surgery, I spent 2 weeks at hospital, the 3rd week I was informed that even if my body had tolerated the drugs, they had to cut off my breast. They did it on February 24, 2022. Later the doctor suggested radiotherapy.
Talking about radiotherapy, the very radiotherapy meant new expenses, I happened to learn that it is not done here in Burundi. In itself the process of getting that medical report is long, it requires the signatures of doctors, you have to go in person to the minister. Each signature costs 50,000 BIF. I had to pay the doctors who took care of my case 250,000 BIF in addition I had to pay the other 50,000 to be able to withdraw these documents. I would not fail to say that it is only with the minister where I didn't need to pay.
Where did you go exactly?
In Tanzania on March 17, 2022, I had to rent a house, to perform other exams. All in all I paid the equivalent to 7.5 million BIF.

Did it change your way of leaving?
In general several things change, I would cite as an example the fact of putting oneself under a special diet. During that time, you no longer eat the same as others. In addition there is a sudden change due to the expenses, they multiply a lot, the costs of treatment. The sudden expenses open doors to poverty and you go under that pressure which induces others illnesses.

Is the treatment accessible? How expensive is it?
The accessibility of treatment is a tough question. Let's just say the treatments are not accessible here in our country. Imagine I or other patients could spend a month hospitalized without being treated due to the lack of medications. It requires the patient to pay the total amount of money and the doctor to order medication abroad. After ordering both the patients and doctors are forced to wait for a period ranging from two weeks to two months. This causes (stopping treatment) cancer cells that were being burned to regenerate.
What massage are you giving to women young and old out there?
I encourage other women, young and old ones, to be aware of their breast changes and consult doctors about any suspicious lump. I would recommend them to avoid a diet which promotes cancerogenic cells. I will advise them to stay calm and stay as positive as they can once they are diagnosed.