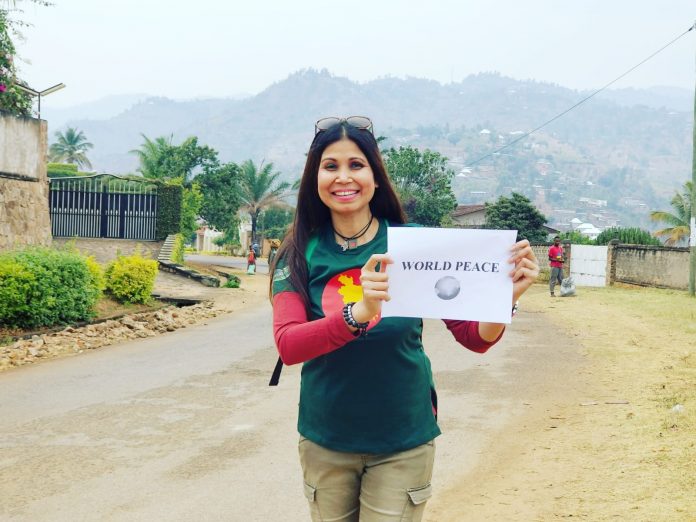 Najmun Nahar is the first Bengali woman whose mission is to travel 195 countries by road, carrying a Bangladesh flag in efforts to promote peace and humanity globally.
Winning several awards including Recipient of International Peace Torch Bearer Award, USA, Miss Earth Queen Award, FOBANA, Nassau Coliseum USA among others. She spoke to Burundi Times about her journey and experience in Burundi.
What was you first country to travel to? And why?
My first country was India, I always see the girls have a lot of barriers… I want to show the world that everyone one have a dream let it be male and female go for it. I spread the message of peace the word is our family and we are all human we should not fight each other.
How do you travel across the globe?
I cover one country to another by road and encourage everyone to save our planet. Am a peace runner.
Now that you are in Burundi where have you travelled? And how is your experience?
Now in Burundi I have travelled in many places in here…for me it is the lot of smiles and peace allover. I have travelled to Bujumbura, I was Nyakabiga , Kiriri, lake Tanganyikka..I was in the festival, downtown church, craft museum and today I was in the festival…Burundi women are hardworking and contributing to the country's economy and I visited Mutanga nord..It's amazing…
What did you like about the country?
I like the people. When I am at the restaurant they come to speak to me and want to know where am from and what am doing…people are nice they come with smile. The airport is the cutest airport in the world.And the food is nice and amazing… I tried Burundian food and the price is reasonable.
What was your perception before arriving in the country?
My perception is that it was the smallest country…I didn't have any bad perception I studied about the country and I found more good things…I really like the country.
For how long are you staying in Burundi?
Eight days…am going to Congo after this in Bukavu and I will meet Denis Mukwege there. My 100 country was Zimbabwe I was honored as the flag girl
When did you start travelling?
I started travelling in 2000 when I was 21 years, I travel by road in 15 countries …I started in Asia few countries when I went to Sweden. In Africa started from Ethiopia in 2018.
So far how many countries have you travelled to?
I have to travel 195..i work hard …I look for more affordable guest houses of around 15$, and so far Burundi is the 145th country I have travelled to. My mission is to visit every country in the world. Sometimes eat raw meat, sleep on the grass…I ate potatoes for almost 2 months when I was in West Africa. Travelling is a great education, nature and meet with many precious people.
One may wonder how you travel do you work?
I don't travel always but I travel like 3 or after 6 months. I save money you know when you have a dream you can always manage
How has the covid-19 pandemic affected your travels?
After 140 countries it was hard and very expensive to travel and time is going…I came to Burundi and spent $200 for testing so it is a lot of money ….by this year I want to finish 150 countries, DRC, Sudan and Namibia are next.
What message do you have for Burundians and people worldwide?
We should save our planet, we should live in peace, and we have to think of humanity and save our planet.