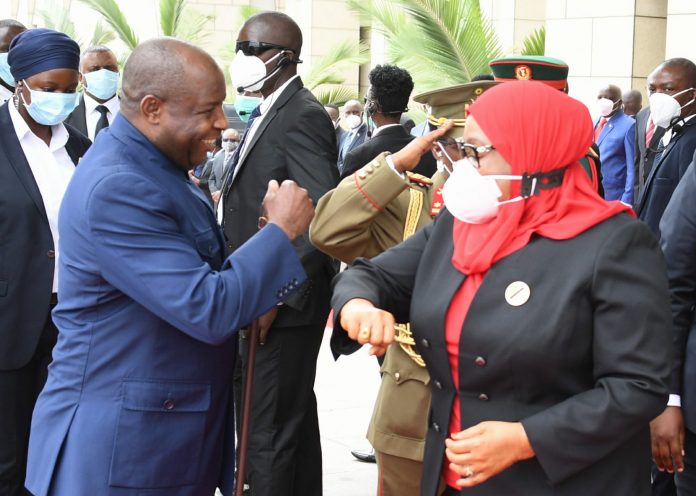 Tanzania's President Samia Suluhu Hassan during her visit to Belgium at the European Union's Headquarters in Brussels urged the European Union (EU) to continue supporting Burundi Government, noting that the EU has a pivotal role to play in the neighbouring country's stability and development.
"A stable Burundi is good for the Great Lakes Region, good for the EU and good for the world," she said.
On February 8th, 2022 the European Union announced the lifting of sanctions against Burundi that were imposed almost seven years ago.
In a communique the EU said that the lifting of sanctions against Burundi is due to the peaceful political process that kicked off with the general elections in May 2020 which opened a new window of hope for Burundians.
"Respect to human rights, good governance and the rule of law, as well as commitments taken in its roadmap ('feuille de route') towards further improvements in those areas," part of the statement reads.
The statement released by the European Union indicated that the Council decided to repeal its decision taken in 2016, which was imposed on Burundi that included the suspension of financial support and disbursements of funds directly to the Burundian administration or institutions.
The EU suspended direct aid to the Burundian government in 2016, the move saw the country's economy much impacted in the middle of the 2015 political crisis.
However, when the incumbent president Evariste Ndayishimiye took over the office in 2020, the political dialogue between Burundi and the EU kicked off in efforts to normalize the relations.
Article 96 of the Cotonou agreement which provides the legal basis of suspension
of the agreement following a period of dialogue in cases where one of the parties' feels that the agreement's essentials, and fundamental elements are not respected that includes human rights abuses and activities that undermines democracy.