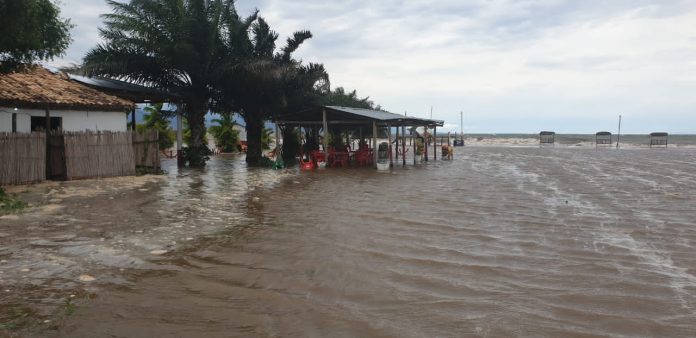 The water levels of Lake Tanganyika increased this weekend flooding to the nearby villages that caused damage to some properties and houses that are closer to the lake.
Environment experts say that human-driven activities including pollution, deforestation, and unsustainable activities on the lake are among the causes of floods.
"The lake increased up to 776m level, one of the reasons that caused this water variation is the rehabilitation of hydroelectric dam at the river Rukuga which is a drain sprung from the lake," said the Agriculture minister Deo Guide Rurema last week.
The Burundian government said that the flood incident and destruction of property is also related to anarchy observed in the construction around or nearby the lake.
The government had put in place a law that requires citizens to not construct or live around the lake with less than 150m
Experts say that biodiversity degradation, erosion, and pollution have ruled out Lake Tanganyika water-variations that added to gradual extinction of ecosystems both terrestrial and aquatic.
"Deforestation has been the main ruler of climate change as it brings down erosion which in turn threatens the lake. For the past months, the water changed to green as a result. Also the lake endures sedimentation from erosion that causes lack of oxygen to aquatic ecosystem," said Leonidas Nzigiyimpa an expert in Nature Conservation.
According to Global Forest Watch data an online forest monitoring platform, since 2002 Burundi lost 314 ha of humid primary forest, making a total tree cover loss of 1.2%, the total area of humid primary forest decreased by 1.3% in the same period.
According to experts there is a strong interdependency between aquatic and terrestrial ecosystems. So far forests suck biomass and are sinkers of carbon (CO2). As for Global Forest Watch between 2001 and 2019 Burundi lost 27.7Kha of tree which is equivalent to 5.1% decrease in tree and 6.12Mt of CO2 emission.
Given the gas emission, says the expert, the lake is likely to warm as there are no forests to contain it. Therefore, lake waters will increase causing material (building activities) and ecosystems loss (aquatic loss). The reason is that between 2019 and 2021, the lake will change sweeping the shores.
Other threats hitting the lake is pollution among which biodegradable and non-biodegradable. This is due to the industrial boost of the economic capital Bujumbura and palm industries in Rumonge stand as the main cause of climate change for the lake.
"Plastics and liquids from industries go into lake Tanganyika including used engine oil and various industrial wastes. In addition pollution of soil and water drive over water variations in lake threatening ecosystems," said Mr Leonidas Nzigiyimpa.
The ministry of Agriculture Mr. Deo Guide Rurema said that the Burundi Government soon will implement measures to decrease it such as inciting the population to respect 150m distance from the shore, and afforestation.