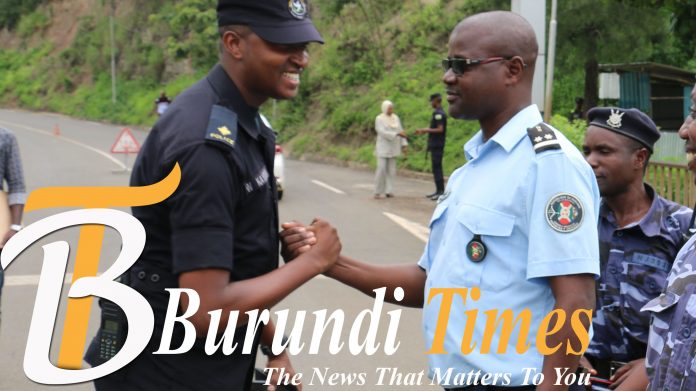 Burundi and Rwandan police greeting each other in 2018 at the Ruhwa border post located in Cibitoke province. PHOTO|Burundi Times
Burundi government has accused neighboring Rwanda of attacking a military position in Cibitoke province that borders Rwanda. While speaking to the State owned television, Major Emmanuel Gahongano from the defense ministry said that the attack happened on Sunday early morning.
"An armed group which came from neighboring Rwanda attacked a Burundian military position at the Twinyoni in Mabayi commune in Cibitoke after the attack armed group fled to neighboring Rwanda," he said.
The attack comes after an armed group infiltrated into Bubanza province last month from the neighboring DRC, according to the Burundian police at least 14 armed men were killed during the confrontation.
Burundi and Rwanda relations continued to deteriorate since 2015 after Burundi's president Pierre Nkurunziza vied for another term in the office.
Burundi accuses Rwanda of plotting the 2015 failed coup to oust the incumbent president and militarily training Burundian refugees to over thrown Nkurunziza's government.
In return Rwanda accuses Burundi of sheltering the FDLR rebels who are accused of committing the 1994 genocide, for more than four years there have been increased armed attacks at the bordering communities of the two countries.