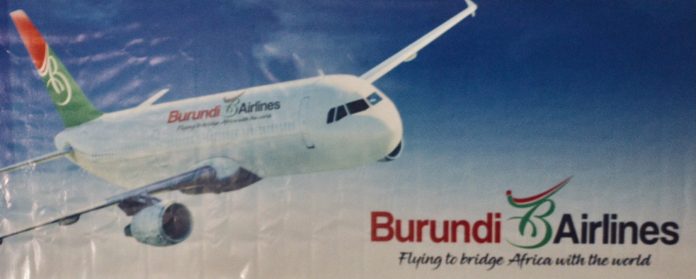 Burundi ministry of trade, tourism, and industry launched this Thursday February 5th, 2021  Burundi Airlines a company to monitor the country's owned fleet after being grounded for more than 10 years.
The government is the main shareholder with 92 percent of the shares while SOCABU and SABENA owns 4 percent of the shares each. 
The launching comes after the Burundi president Evariste Ndayishimiye signed a decree allowing the government to participate as the main shareholder.
In a statement Burundi possess 92% of the social capital, the rest with 8% to sum up 100%.
"The total shares of Burundi Airlines are estimated at BIF 15.9 Billion while each share costs BIF 2.7 million which brings the sum of the share to BIF 14.6 billion as the social capital of Burundi Government (92%).
The new Burundi Airlines comes after fourteen years since the last Air Burundi was grounded in 2009, according to the government Air Burundi ceased operations due to technical related complications connected to maintenance and other associated technique issues.
The General Director of SOBUGEA_a ground-handling operations at the Melchior Ndadaye airport (Societé Burundaise de Gestion des Entrepôts et d'Assistance des Avions en Escale in French Acronym) Mr Joseph Nkurunziza said thaty all is setto kick start the activities of the Burundi Airlines.
"It will boost the country's economic growth and tourism. Today, SOBUGEA helpz aircraft companies that operate in Burundi from which it gets percentage on performed activities," he said.
As for the workers already operating in different services of the Melchior Ndadaye International Airport, they will be given new contracts under the new entity.
"We will keep the same workforce no one will be relieved from his or her duties at the airport so there will only be adjustment," said the Ministry of trade, tourism, and industry Immacullée Ndabaneze.
Currently five airlines operate at the country's international airport including Kenya Airways, Brussels Airlines, Ethiopian Airlines, RwandAir and Tanzania Airlines with a total of 11 flights per week.
Before the Airline activities were suspended, Air Burundi aptly named Burundi Airlines had 3 destinations of Rwanda (Kigali International Airport), Tanzania (Dar-Es-Salaam), and Uganda (Entebbe International Airport).