Burundi's Women National Team grabbed the three points in their opening game against Djibouti that took place in the Eastern part of Uganda at FUFA Technical Center in Njeru.
The Council for East and Central Africa Football Association (CECAFA) senior women championship 2022 kicked off this Wednesday that saw the Burundi's Women National Team thumping Djibouti's by 3-0 in their opening match.
Djibouti proved to be a hard but to crack in the first half not until in 36th minute when Burundi's skipper shirt number 18 Joelle Bukuru made a swerving free kick left Djibouti's goalkeeper Rokiatou Doumbia helpless to break the deadlock for the Burundian side.
Burundi doubled their lead two minutes later thanks to Sandrine Niyonkuru shirt number 10 after a spectacular teamwork combination between Aniella Uwimana, Asha Djafari and Joelle Bukuru.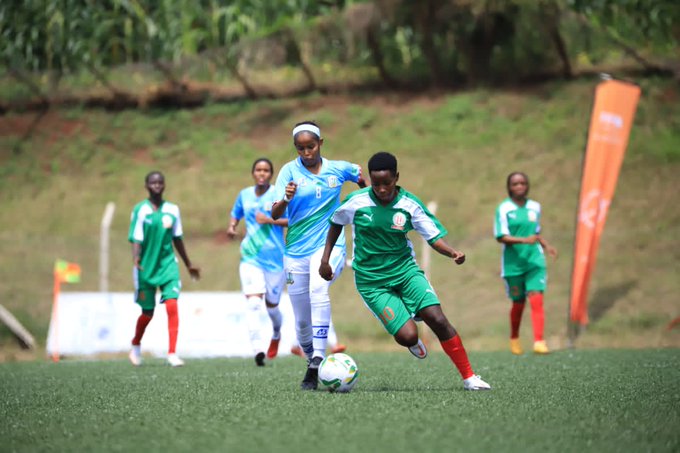 It was Joelle Bukuru's cross that found Ineza Bora and Niyonkuru Sandrine to head into the empty net.
The first half drama continued as Djibouti's shirt number 9 Nadia Nour was given his matching order five minutes before the break for retaliation.
The second half saw Djibouti's shot stopper Rokiatou Doumbia being the busiest player as he pulled out strings of saves, it was not until deep into the stoppage time in the 92nd minute when Burundi's Sandrine Niyonkuru scored earning her a brace in the opening game.
In the late game of the day saw the Uganda's Crested Cranes beating Rwanda by 2-0, the last time Uganda played Rwanda was during the 2018 CECAFA Women's Championship at Stade Kigali, Nyamirambo where the game ended in a 2-2 draw.
The results leaves Burundi on top of the Group A table by goal difference against Uganda, third place is Rwanda and Djibouti rocking the bottom of the table of Group A.
Matches are expected to be played ahead in Group B that consists of Ethiopia, Tanzania, South Sudan and Zanzibar.
Burundi's next match will see the Intamba locking horns with Rwanda while Uganda will be taking on Djibouti on 3rd, June, 2022.