Burundi's public security minister Alain Guillaume Bunyoni swearing in as the prime minister of the new government of president Evariste Ndayishimiye in the parliament on June 24th. 2020. PHOTO| Burundi Parliament.
Burundi's Prime minister Alain Guillaume Bunyoni and Vice president Prosper Bazombanza were sworn in this Wednesday June 24th 2020 in the presence of the country's constitutional court, parliament, senate and the President of the republic of Burundi Evariste Ndayishimiye in Bujumbura.
This comes after the approval of both new executives' by the parliament and senate earlier on chambers in efforts to form the first government under the country's 2018 constitution.
Burundi president Evariste Ndayishimiye had earlier on nominated the two officials for the parliament and the senate to approve there candidature.
The duo pledged devotion to the National Unity Charter, the Constitution of Burundi, and the law while committed and dedicate their efforts to defend the interests of the country.
Burundi's prime minister and Vice President vowed to guarantee the National Unity and the cohesion of the Burundian people, peace and social justice.
"I hereby undertake to combat any ideology and practices of genocide and exclusion, to promote and defend the individual collective rights, freedoms of individuals, citizens, and to protect the integrity and independence of the Republic of Burundi," said Burundi's prime minister Alain Guillaume Bunyoni.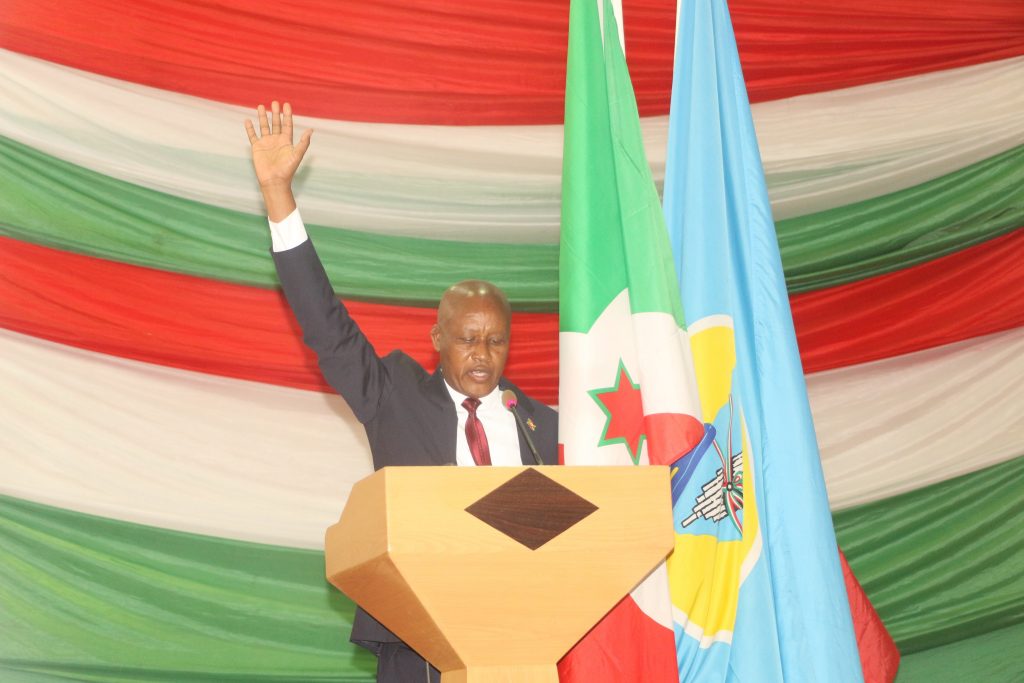 Burundi's president Evariste Ndayishimiye released a decree appointing Gabriel Nizigama as the Cabinet Chief of the President's office.
The event comes after the unexpected death of the former Burundi president Pierre Nkurunziza earlier this month, the government said that the former president died of cardiac arrest in a hospital in Karuzi province where he was undergoing treatment.
Late Pierre Nkurunziza was expected to end his term this August making him the first ever Burundi president to rule the country for 15 years.
He was also the first Burundi president to peacefully and democratically hand over power since the country gained her independence in 1962 after publicly declaring in 2018 that he will not seek for another term despite being legit in the country's 2018 constitution.
The remains of late president Pierre Nkurunziza are expected to be laid to rest in the country's new Capital Gitega on June 26th, 2020.