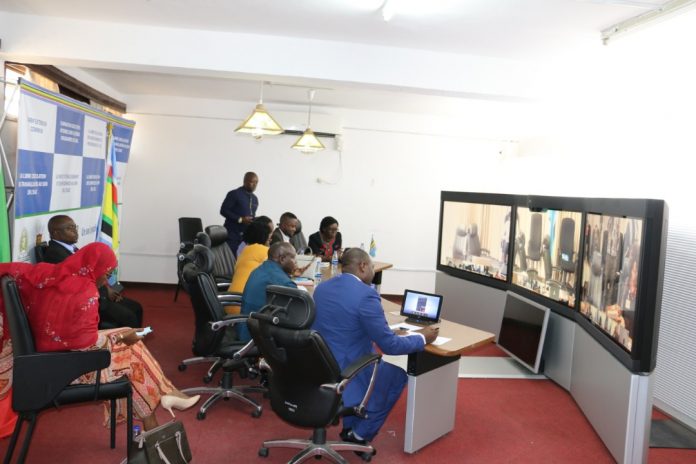 EALA Burundi chapter while casting their votes virtually in Bujumbura on May 23rd 2020. PHOTO| Burundi Times.
The East African Legislative Assembly (EALA) has this Tuesday 23rd, June 2020 voted for the new commissioners who are expected to manage the affairs of the Assembly.
Members of the regional assembly virtually voted for the 12 members of the commission as the six partner states was represented by two members each.
"Every member is expected to vote and we shall only close the voting after making sure all members participated in the process," said the EALA speaker Martin Ngoga ahead of the online voting process.
The EALA commission mandate includes nominating members of the Standing and other Committees, the term for members of the commission lasts for 30 months from which new members are elected by the assembly.
Jean Marie Muhirwa and Karerwa Momamo are Burundi's newly elected members of the Regional Assembly's commission, other members from partner states include Oburu Oginga and Wanjiku Muhia (Kenya), Oda Gasinzigwa and Francois Xavier Kalinda (Rwanda), Ngwaru Maghembe and Josephine Lemoyaan (Tanzania) and Gideon Gatpan Thoar, Woda Jeremiah Odok from South Sudan.
The regional assembly rules provide that Partner States that nominate two Members for the Commission, shall duly be declared as elected. The Republics of Kenya, Burundi, Rwanda and Tanzania had nominated two Members each to the Commission while Uganda and South Sudan nominated more than two Members for the post of Commissioners that prompted for a vote by secret ballot.
The elections saw Uganda's Rose Okullu Akol bagging 49 Votes and Mary Mugyenyi 28 votes while Susan Nakawuki left with 25 votes. Republic of South Sudan had four contestants, Kim Ruot Gai, Gideon Gatpan Thoar, Gabriel Alaak Garang and Woda Jeremiah Odok. Gideon Gatpan Thoar led with 40 votes, Kim Gai Ruot and Woda Jaremiah Odok tied at 28 votes a piece prompting the Speaker to call for the second rounf of voting.
After the second round Woda Jeremiah Odok was elected to the Commission getting 29 votes against Kim Ruot's 23 votes.