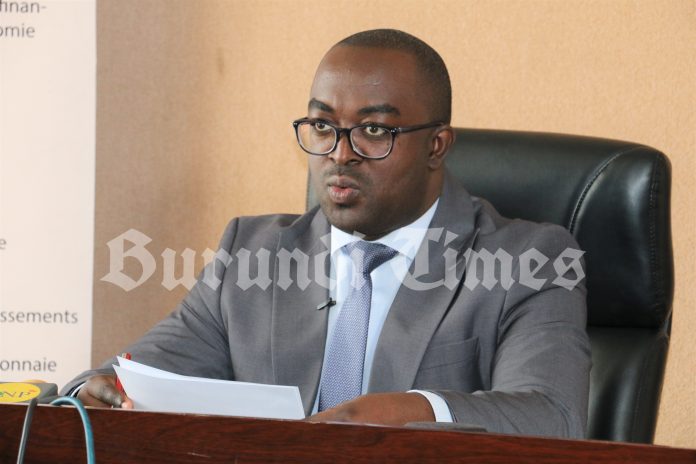 Burundi's former Central Bank (BRB) governor Dieudonné Murengerantwari and a city tycoon Sylvestre Niyonsaba were arrested by the country's prosecutor general.
Last Sunday October 8th 2023 Mr. Murengerantwari was relieved from his duty as the governor of BRB after being accused of corruption, money laundering and other related criminal offenses.
"They are prosecuted for violating the proper functioning of the national economy, passive corruption, money laundering, and embezzlement of public property, which offences are provided for and punished by the Burundian Penal Code," part of a press release reads from the Attorney General's Office.
According to the Attorney General Leonard Manirakiza, the two are undergoing interrogations, "we would like to take this opportunity to reassure their families that this work is carried out in strict compliance with their rights guaranteed by the Code of Criminal Procedure and the other laws of the republic."
"It is important to identify from all these blaming facts that some officials have chosen to turn a deaf ear to the vibrant call of the Government of Burundi to all Burundians to fight with the bad practices of harming the national economy," part of the press release reads.
4 ministers replaced
Burundi's president Evariste Ndayishimiye replaced four of his ministers last week.
In an announcement that was broadcasted with the state broadcaster (RTNB) last week, the Secretary General of the government Prosper Ntahorwamiye announced the new ministers including one in charge of East African Community Affairs.
"The minister of public health and fight against HIV is now Dr. Liduine Baradahana, the minister now in charge of Environment, Agriculture and raring is now Prosper Dodiko," said Mr. Ntahorwamiye.
President Ndayishimiye also replaced his minister of Civil Service, Labor and Employment to Mr. Venuste Muyabaga.
While the former ambassador of Burundi to Tanzania Gervais Abayeho replaced Ezekiel Nibigira.
Burundi's ministry for EAC affairs also holds a docket of youth, sports and culture.
The cabinet reshuffle comes as some of his ministers are said to have been under performing in their ministries.
This is not the first time Burundi president has made a big shakeup on his cabinet since he took the office in 2020.
In September last year, Burundi president Evariste Ndayishimiye fired his Prime Minister Alain Guillaume Bunyoni after the president raised concerns of a coup attempt to over throw his government.
In June 2022 the president revoked 35 magistrates who were accused of obstruction of justice and corruption.
Last month the Burundi president relieved the governor of Ngozi province and other local administrators in Bujumbura, the relieved authorities were accused of fraudulent distribution of Sugar which is currently scarce in the country