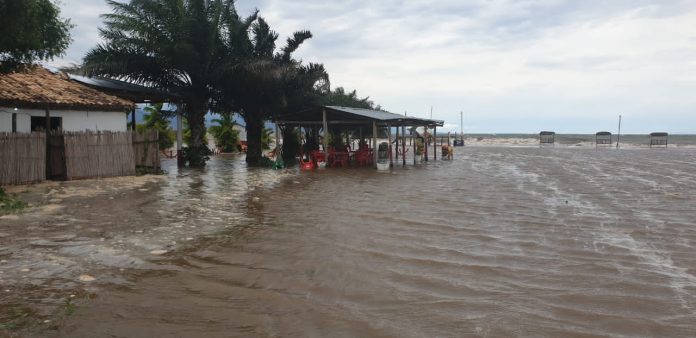 Burundi's government has announced 2 billion francs to be allocated to renovate the country's main port in Bujumbura, the port's infrastructure was damaged by the increasing water levels of Lake Tanganyika.
Speaking to journalists after visiting the port, Burundi's minister for trade and industries Ms. Immaculée Ndabaneze said that the allocated amount will help the rehabilitation of the damaged port infrastructure caused by the rising water levels.
"A sum of 1 billion as said by experts will be allocated to import gravels to maintain the heavy waves from the lake and the rest will be used for other constructions including major and minor ones," said Ms Ndabaneze.
Lake Tanganyika waters have been varying since the beginning of 2020. Infrastructures near-by the lakes were affected by the rising water levels, port officials said that blockades that had been in place cannot stand anymore as its sinking.
The visit of Ms. Ndabaneze followed the recent water floods that occurred last week. News on social media surfaced as water levels rose and flooded the tarmac road of Avenue de la Plage and Cercle Nautic which was temporarily closed.

As of Monday April 19, 2021 water-levels reached 776,44m according to Lake Tanganyika Authority.
It is highest recorded since the beginning of March rising from 776,11metres (2019), 776,16metres (2020) and 776,2m in March, 2021).
According to experts, the lake's level stands at 773 meters at its normal level while 777 meters at its higher level.
For almost 20 years the lake level increased from 773,7 meters in 2000 to 776,44 meters as of April 19, 2021, approximately 3 meters is said to have been the increase during that span.
Analysts say that the cause of the increase of water levels is coupled with the climate change and that the variations are depicted daily and change over time.

As of recent data published in October 2019, water variations from 2000 to 2010 swirled around 773 meters but in 2011 it augmented to 774 meters, it kept the cap till 2016.
In 2017, one meter increased, and so was in 2018 mainly caused by the heavy downpour. "Today's phenomenon of the lake occurred back in 1964. If the chart is analyzed, the same precipitation happened as well. It could be worse to say that the lake will decrease, if it continues to rain, water will increase again," said Mr Augustin Ngenzirabona, General Director of Burundi Institute of Geography (IGEBU).