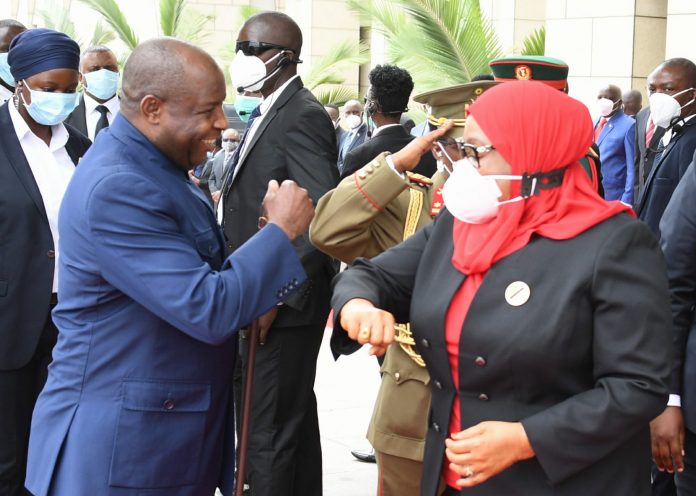 Burundi and Tanzanian government are set to sign an agreement that will see Burundi utilizing the 10 hector dry port that was allocated by Tanzanian government in Kwala area in coast region near the Dar es Salaam port.
"We visited the place which is near to the port what next is that Burundi will sign an agreement with Tanzania slated for November for the terms and conditions on which we will be operating in," said Ndayiragije Athanase the technical advisor to the Burundi Ministry of Trade.
This comes as a follow up of president Samia Suluhu's visit to Burundi in July 2021 where she announced that her country already availed land for a dry port in Kwala of 10 hectors for Burundian traders, president Suluhu said that the dry port which Burundians will use and have been built pending the technicians to meet and provide the way forward.
"There are two dry ports that are at hand now the one in Kwala and another one in Kigoma of 69.5 acres this will help facilitate cargos to and from Burundi," said Ndayiragije Athanase the technical advisor to the Burundi Ministry of Trade.
Burundian traders welcomed the move by the two countries hoping that port charges that have played a role in increasing the cost of doing business in East Africa will reduce significantly.
One of Burundi's prominent business tycoon said that the availing of the dry port for Burundian business people will play a great role to boost the country's economy.
"The port charges a lot but if the country has its own dry port it is much better because if there is an over stay of goods they won't be charged like at the port. Even if there are problems with the customs delay the charges will be minimal or waivers can be applied," he told the EastAfrican in Bujumbura.
The business man said that efforts should be put to the Kigoma dry port than anywhere else as the port has the potential to serve the Eastern DRC, Zambia, Rwanda and Burundi.
"A railway can play a vital role because currently the cost of a container from Guangzhou or Shanghai to Dar e Salaam is approx: $2000 but from Dar es Salaam to Bujumbura is estimated at $3000," said the business man.
The Burundian government said that the agreement between the two countries will mainly focus on the duration, the occupation office and transport loading and offloading.
The Trade between Burundi and Tanzania increased from Tshs 83 billion in 2015 to more than Tshs 200 billion in 2019.
Burundi heavily depends on Dar es Salaam port (Central Corridor route) for imports and exports of goods, with 95 percent of goods to and from Burundi goes through Tanzania more than 476,000 tons of goods were recorded last year.
In September last year Burundi and Tanzanian government agreed to build a narrow gauge railway that will help transport Nickel from Burundi, the Railway is expected to run from Uvinza to Gitega via musongati where the largest deposits of Nickel in Burundi is located.
A Permanent Commission is in place to study the modalities to implement the project that will facilitate the transportation of minerals mainly Nickel from Burundi.
Burundi has 231 MT of proven Nickel reserves country wide in Nyabikere 46MT, waga 35MT and Musongati 150MT.
The two countries had also agreed to build a joint venture refinery industry for processing nickel which is found in Kabanga, Ngara district in Tanzania and Musongati in Burundi.