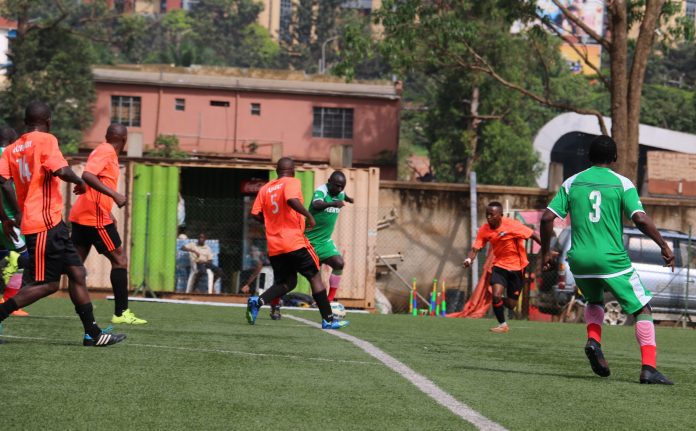 Burundi National Assembly (in Orange shirts) while locking horns with Kenyan counterpart during the 10th Inter-Parliamentary games in Uganda's capital Kampala on December 18th, 2019. PHOTO| BurundiTimes
The Burundi National Assembly team thumped their counterparts from Kenya by 7-2 in men's football at KCCA stadium, thanks to Innocent Niyukuri's six goal madness that sealed Burundi's last football game of the 10th edition of the Inter-Parliamentary games hosted in Uganda.
It took three minutes for Burundian skipper to break the deadlock and for Kenya to equalize three minutes later through Eric Nyoti, Innocent yet again scored his second goal in the 9th minute and extended Burundi's lead in the 19th, 24th and 41st minute before the end of the first half.
Burundi Member of Parliament Denis Karera also didn't miss out in the party with a solo strike in the 45th minute to make it 6-1 putting Burundi in the driving sit.
Kenya pulled one back in the 55th minutes goal from Jimmy Rogers right footed straight just outside the 18yard box, but yet again Burundi National Assembly team had a last say as Innocent Niyukuri sealed the victory with another strike that came in the 58th minute.
The match was among several games that were part of the 10th East African Inter-Parliamentary games that concluded this Wednesday, December 18th 2019 in Uganda's capital Kampala.