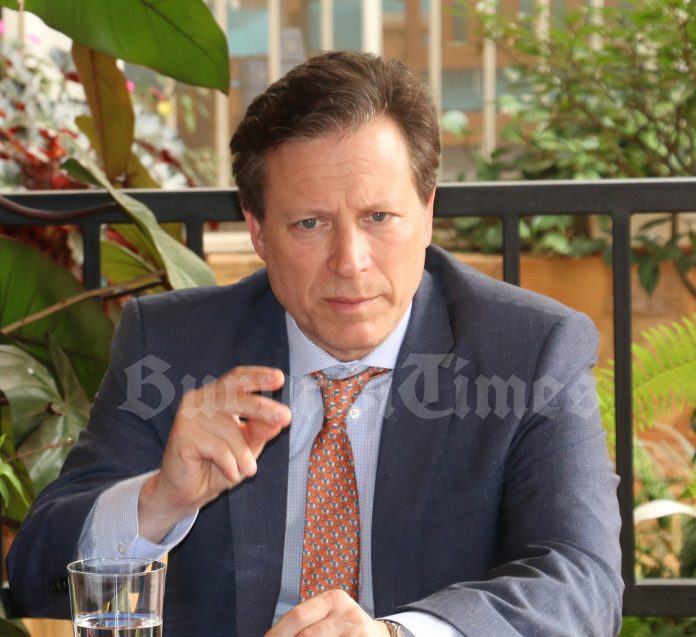 A team of the US International Development Finance Corporation (DFC) made a field visit in Burundi to explore opportunities to invest in mainly in the country's private sector.
While addressing the press in Bujumbura on Friday 9th February, Andrew Herscowitz the Chief Development officer of DFC said that his visit was a follow up of the Africa Heads of State summit that was hosted by the US president Joe Biden.
"After visiting Bujumbura and outside Bujumbura this is among the richest countries I have seen with great natural resources," said Andrew Herscowitz.
U.S International Development Finance Corporation is the U.S. Government's
Development finance institution which partners with the private sector to finance, solutions to the most critical challenges facing the developing world today.
According to Mr. Herscowitz, the DFC invest across sectors including energy, healthcare, critical infrastructure, and technology. After visiting Uganda and Tanzania, his destination was Burundi and emphasized on the intent to invest in the energy sector.
"We had an opportunity to visit a solar plant that has been built by a US company called Gigawatt Global and it was specular to see where there is clean energy," said the DFC Chief Development Officer.
Gigawatt Global is a renewable energy company focused on the development and management of utility-scale solar fields in emerging markets.
The solar plant in Burundi produces and estimated 7.5 MW field and has been operating in the country since April 2021. The plant provides over 10 percent of the country's electricity.
"We are hoping to find additional opportunity like that investment to make sure everybody in Burundi has access to reliable and clean electricity," said Andrew Herscowitz the Chief Development officer of DFC.
"We can work closely with the government of Burundi to bring to bring the type of investment that is needed to give people access to electricity," he added.
The DFC Development officer indicated that they met with development banks in Burundi and discussed on the best ways to get small loans to small businesses, to women who work in markets and people who need access to finance.
"Our hope that based on those meetings we can generate some ideas to ensure that the financing we provide reaches people who need financing the most."
DFC invests across several sectors including energy, healthcare, critical infrastructure, and technology, with stated priorities of women's empowerment, innovation and climate change.
DFC has a total investment limit of $ 60 billion and $9.4 billion in active commitments in Africa. DFC is focused on promoting inclusive economic growth in the world's least developed countries.